SA King prawn, mango and green chilli chutney
Harvey Bay scallop, finger lime caviar, charred samphire
Pulled Asian Duck Leg, crispy wonton and Scallion
Brie and Quandong tartlet
click here to go straight to pricing
Last updated 19 September, 2020
(choice of)
Roast Turkey Breast
Maple glazed Pumpkin and fig, crispy kale, Davidson plum and cranberry sauce
– OR –
Wild NT Barramundi
Quinoa, roasted beetroot, watercress, orange and pomegranate
– OR –
Coonawarra Beef
Served medium rare white bean puree, charred asparagus, roasted shallot, cabernet jus
– OR –
Haloumi and Mushroom Fritters
Roasted Red onion, capsicum, spinach, romesco and labneh
Mains served with salad greens
last updated 19 September 2020
Sticky Muntrie Pudding, wattleseed caramel, chocolate tuille
Rosella and Raspberry Pavlova, cherry sorbet
Quandong and chocolate spring roll
Janz Cuvee
Twin Island Sauvignon Blanc
Bent Creek 'Black Dog' Shiraz
James Boags, Cascade Light, Soft drinks, Juices, Water
Coffee & Infusion Teas.
Prices
Adult $180.00
Teen (12-17 yrs) $120.00 (same food menu as above + soft drinks)
Child (under 12yrs) $75.00
(Choice of: Pasta Napolitana, Turkey with Vegetables and Steak Fries, Barramundi or Fillet Steak, Steak Fries and Salad. All served with Ice cream with choc topping for dessert and soft drinks)
PLEASE NOTE
Deposit of $20 per person is required at time of booking
Phone 8211 8555
Full payment is required by 10th December 2020 – Deposits are non refundable
Menu and content subject to final review according to market availability.
Please be advised there is no wheelchair access to the Red Ochre Restaurant.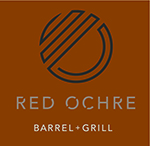 talk to us +61 8 8211 8555
email us
get directions
War Memorial Drive
North Adelaide,
South Australia 5006
Web site last updated December 18, 2020.
We are open
Tuesday to Saturday dinner only
Other times by prior arrangement
and enjoy regular subscriber only rewards for the
Red Ochre Barrel + Grill and the River Cafè
Copyright © text and images Red Ochre Barrel + Grill 2020